Computer Education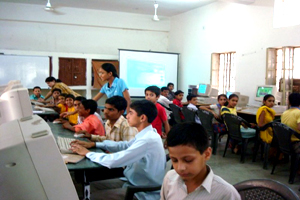 Status of different activities of DSE during Lockdown & post Lockdown period
Sl no.

Name of activities

Status

Remarks

 

 

 

 

1.

 

 

 

 

Live classes in local TV channels covering Class IX to XII

 

Directorate of Secondary Education has taken initiatives during the lockdown & post lockdown period engaging good quality of Teachers for organizing Phase-wise live/ online classes in 5 Local TV channels. The details of the schedules are as follows:-

First Phase: 06/06/2020 to 15/06/2020

Second Phase            22/06/2020 to 22/07/2020

Third Phase  23/07/2020 to 22/08/2020

Fourth Phase 23/08/2020 to 22/09/2020

Fifth Phase    23/09/2020 to 23/10/2020 

Sixth Phase   27/10/2020 to 26/11/2020

Seventh Phase          27/11/2020 to 26/11/2020

Channels involved: Awaaz, Mrinalini ENN, Sristi Tripura, News Today, Headlines Tripura. 

 

2.

Telecasting of recorded video classes by Doordrashan Kendra, Agartala (Prasar Bharati)

Pre-Recorded Classroom Video Transmission:-

(In Doordarshan Kendra Agartala) from 25/07/2020 to 18/08/2020 (Covering Class X and XII)

 

3.

Youtube channel:  Tripura Shiksha Bandhu (Vande Tripura)

Till today, the YouTube Channel has 17,500 subscribers & 6,61,439 viewers

(714 high-end e-Classroom Videos were uploaded in this channel)

Good response has been obtained from the students and Guardians.

 

4.

Classes by teachers through various video conferencing apps.

Most of schools have taken initiatives in this regard by creating WhatsApp group with students. Recorded classes from various channels and link from Google meet, Zoom app, Jio-Meet and some other video conferencing apps are being used to provide lectures to students. Students are reaping benefits from it.

 

 

5.

 

Call centre

A Toll free Number was created for the students of the state for their Doubt clearance on the subjects. A call centre was set up in tripurainfo.com for Doubt clearing of the students through Telephone Calls. A good number of subject teachers had been engaged for attending the calls of Students. Responses were overwhelming. It was running up to 31st October, 2020.